Your Trusted Air Conditioning & Heating Experts In Largo, FL For Over 58 Years.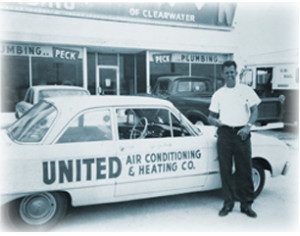 Since our company was founded in 1961, United Air Conditioning has proudly brought world-class quality and service to the Tampa Bay metropolitan area. Our family owned and operated company specializes in air conditioning and heating service, installation, and repair for residential and commercial customers. We prioritize customer relationships above all else. In fact, our technicians are paid hourly so that you never have to worry about being pressured into a sale because someone is working for a commission bonus.
Our technicians are certified by the North American Technician Excellence (NATE) organization and received Super Service awards in 2012 and 2013 from Angie's List. We take great pride in bringing you the best service and repair work from trained, reliable HVAC contractors. Regardless of what type of HVAC work you need, we will do everything we can to ensure that your entire experience with us is as convenient and positive as possible.
Honesty, Trust, And Commitment
No one likes surprises, and we understand that it's important for our customers to know what they're getting and how much they're paying for it from the start. Whenever we recommend a product or service to you, we'll also explain why it matters and what you can do to prevent additional repair jobs in the future.
After 58 years in the HVAC business, we know that a customer's trust must be earned. Our commitment to customer service and our emphasis on telling the truth at every step has helped us build long, lasting relationships with our wide base of clients. Those principles have kept us in business for more than 58 years, and we know that they will continue to sustain us for the next 58 years and more.
Looking Ahead To The Future
As technology evolves and customers begin to need new services and products, it's important for every heating and air conditioning company to keep up. We stay ahead of the curve by monitoring the latest developments in the industry and working continually to improve our service. At United Air Conditioning, our technicians are trained and certified to accurately and comprehensively handle any HVAC situation that may arise.
When you choose United Air Conditioning, you'll enjoy these benefits:
World-Class Professional Service
HVAC Repair, Installation and Maintenance
Annual Service Agreements
24 Hour Emergency Service Available 365 Days Per Year
NATE-Certified Technicians
Stocked Service Vehicles
Full Commitment to Customer Satisfaction
Whether you're interested in upgrading to a better HVAC system or you'd like to learn how annual maintenance work can lower your monthly utility bills, the team at United Air Conditioning is here to keep you feeling good. Contact us today to schedule your next appointment and find out what we can do for you.
Choosing United Air Conditioning
Don't delay when a problem occurs with your heater or air conditioner. United Air Conditioning offers maintenance service so that you never have to worry about running into a serious problem unexpectedly. Our residential and commercial customers know that United Air Conditioning provides fast, reliable, and accessible service all the time. Whether you're hoping to upgrade to a new HVAC system or you want to learn more about the importance of annual maintenance, our service-oriented technicians can guide you through the process and help you choose the best options for your home. At United Air Conditioning, customer satisfaction is always our top priority.
Air Conditioning Service, Heating Service & AC Service

Clearwater, FL, Clearwater Beach, FL, St. Pete Beach, FL, Safety Harbor, FL, Pinellas Park, FL & Largo, FL
Heating Repair

∴

A/C System Repair

∴

HVAC Repair

∴

Central A/C Repair ∴ Pinellas Park, FL ∴ St. Pete Beach, FL ∴ Clearwater Beach, FL